Angkor Thom Temple
Angkor Thom, literally means 'Great City', was the last and most enduring capital city of the Khmer Empire. Settled in a complex covering a square of 9 km2, Angkor Thom consists of various temples and a Royal Palace, walled and moated for protection.
Established in the late 12th century under King Jayavarman VII regime, Angkor Thom is undeniably an expression of the highest genius. The complex is located in the North of Angkor Thom, between West Baray and East Baray. There are numerous ancient temples inside the walls of the city. Most of the great Angkor ruins have vast displays of bas-relief depicting the various gods, goddesses, and other-worldly beings.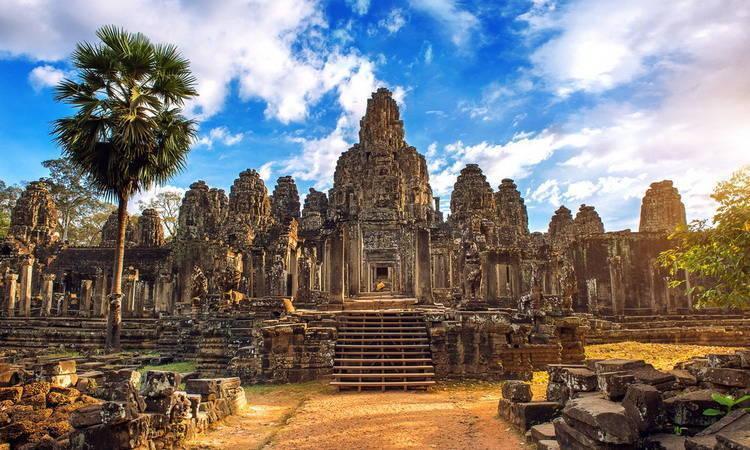 The majestic landscape of Angkor Thom
From the Greatest King's victory
In 1181, King Jayavarman VII successfully defeated Cham invaders and built a glorious new capital city, Angkor Thom, which was the center for a population of nearly one million people. After came to power, King Jayavarman VII, a Buddhist as well as a great architect, started a massive construction campaign across the empire. He began with existing structures such as Baphuon and Phimeanakas and a grand enclosed city around them, adding the outer wall and some of Angkor's greatest temples including Bayon, his state-temple at the center of the city.
Angkor Thom witnessed the reign of the greatest Angkor's king until 1219 and remained the capital of Khmer Empire throughout its decline which probably led to the complete abandon in the 16th century. Today, Angkor Thom standstills as a World Heritage site, along with the other temples in the Angkor Park.
Thereby a glorious construction
Built on a perfect square basement, the city of Angkor Thom is enclosed by a lateritic 8-meter-high wall outstretching the length of 12 kilometers. The wall itself is surrounded by a 100-meter-wide moat once filled with ferocious crocodiles which were said to further the protection.
To access the inner city, there are five gates which are crowned with 4 giant faces and a bridge extending over the moat to the outside area. Each sandstone tower rises 23 meters (approx. 75 feet) to the sky and is built in a grandiose and elegant style. Some of the entrances are decorated with statues of goddesses and demons holding nagas.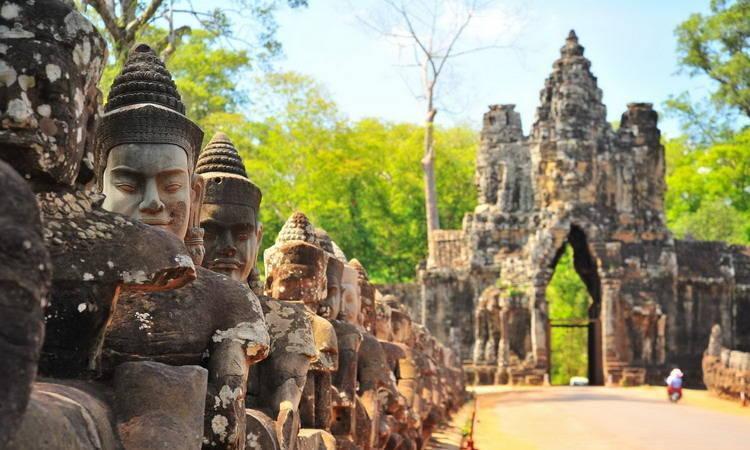 Bridge and road through the South Gate of Angkor Thom Temple
A complex of masterpieces
At the heart of Angkor Thom rises a state temple Bayon, a mesmerizing center piece to get lost in the mysteries with mazes of tunnels, blocked doorways and tumble-down rocks. Bayon has three levels including several galleries on the first base, historical and religious bas-reliefs on the second and a central circular tower in unique Khmer architecture on the last base. However, you will find Bayon the most fascinating with 216 smiling faces of Avalokiteshvara peering down at you.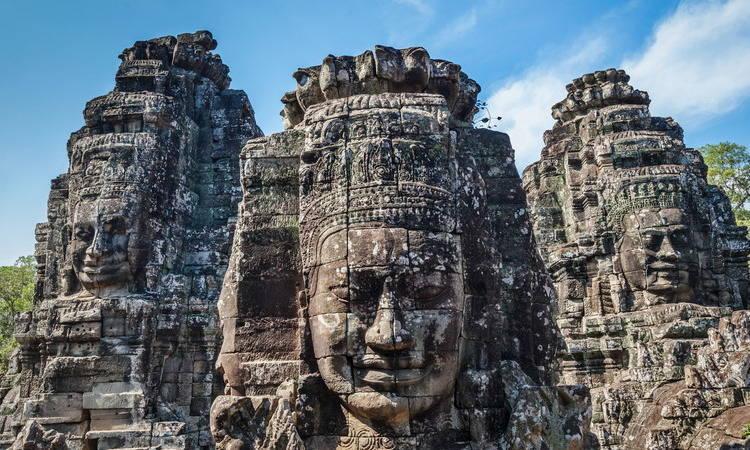 Smiling faces in Bayon Temple – Angkor Thom Temple
Located 200 meter west of Bayon, Baphuon was marked with a pyramidal representation of Mount Meru which was probably one of the most impressive of the Angkor temples. A 200m elevated walkway leads to the temple which has a central tower 43m high.
A royal terrace, called Terrace of the Elephants, features many statues and images of elephants on a 2.5 meter high and 350 meter long platform with five staircases. This site was supposedly used as a platform from which Jayavarman VII viewed his victorious returning army. Head to the north, stand a 7 meter high Terrace of Leper King built in the late 12th century. On the top of the terrace you will see a nude statue which is believe to represent one of two possible Angkorian Kings who had leprosy. It's the reason for the site's name is the finding of "Leper King" statue.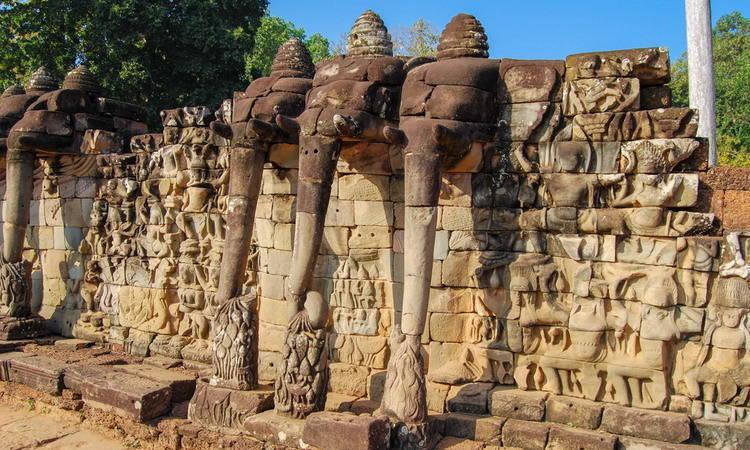 Statue in Terrace of the Elephants
In the northwest corner of the city, a lovely temple, Preah Paliliay, offers tranquil atmosphere and great photo shot with huge trees looming over its structure. Another should-not-missed site is Phimeanakas which is more interesting historically than visually. Used to house a Royal Palace, where bathing would take place, there are still apparent pools but very little remains. Once you climb up its pyramidal structure, you'll be rewarded spectacular views of the surrounding area.
Getting to the Angkor Thom complex
The southern gate to Angkor Thom lies 7 kilometers north of Siem Reap, pass Angkor Thom. The complex is best explored by trekking, biking, tuk-tuk or as part of a temple tour by tuk-tuk which transports you around with ease. The perfect time to soak up the real Angkor Thom is from sunrise, when the vast majority of tourists are admiring Angkor Thom.
Tourists on an ride elephant tour to Angkor Thom Temple
Remember to book your Angkor Archaeological Park admission ticket in advance to avoid waiting in line on-site. The main ticket sales office is the Angkor Conservation Area ticket booth on the road between Siem Reap and Angkor Thom. Aditionally, there are plenty of travel consultants providing booking services as well as the whole Angkorian tour.
Except children younger than 12 with passport, Cambodian citizens and holders of K visas (for people born in Cambodia or with a Cambodian parent), prices are quoted in various options of a 1-day (US $37), 3-day (US $62) and 7-day (US $72) pass. The 3-day pass is valid for 10 days from the issue date while the 7-day pass is valid for 1 month from the issue date.
Visiting hours in Angkor National Park range from 7:30 am to 5:30 am but the Angkor Thom is opened from 5:00 am to 5:30 pm, to make it possible for sunrise and sunset views.