Indein Village in Inle Lake
The Indein Village that connects to the main Inle Lake by narrow canals is a major highlight in the region. A trip to the village can be a fantastic, authentic experience as you will see the weather-beaten stupas and watch people go about their daily life.
Getting to the Indein Village across the Inle Lake is a part of the entertainment of the trip itself. You will see the unique leg-rowing fishermen stand up on their boats with their hands casting net for fishing, and watch the farmers in their canoes tending to their floating gardens.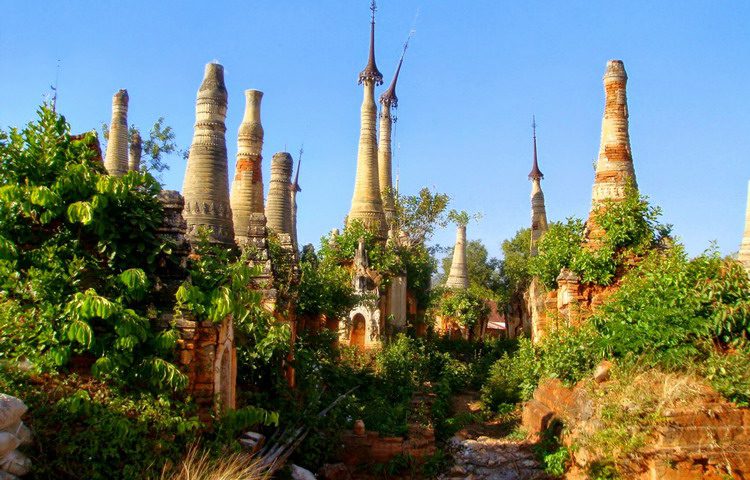 The Indein Village offers nice views and experiences from two different worlds. The old part of Indein Village is home to a mass of stupas, many of which have been neglected and in some way, have thankfully escaped restoration. Walking there feels like back in time. In the new Indein, there is a nice outdoor market which is set up every 5 days. You can buy spices, tea, peanuts, vegetables, clothing, etc and encounter friendly, smiling local people. Do bring some cash.
What to do and see in Indein
In Dein, occasionally referred to as the 'Shan Bagan', is a huge collection of partly restored and partly ruined stupas begun in the 12th century and added to by Shan princes up until the 18th century. It is a highlight of any visit to Nyaung Shwe and should not be missed.
The site lies at the foot of the hills overlooking Inle Lake, which provide a wonderful backdrop. The river is picturesque and carries visitors to small In Dein village, with its numerous cafes and souvenir shops. From here, a short walk through the market area takes you to the start of a long, covered corridor lined with non-stop souvenir stalls which climbs the gentle hill to the central pagoda. During quiet periods, your boatman may moor directly at the foot of the bridge by the entrance to the pagodas.
Many of the more spectacular ruined stupas lie to the sides of this main corridor, so try and branch off left as soon as possible to visit the clump of ruins situated to the south, which houses some of the most dramatic and photogenic sites.
The largest of this group of ruins has preserved murals and a recently uncovered Buddha image while moving to the far left of the group will afford wonderful views up the slope towards the main temple site.
From here, a newly sealed track frequented by Pa-O people coming and going from villages further up the slope, leads to the south end of the main stupa 'forest'. But there's also a spectacular section on the right side of the main corridor, so head back into the souvenir stalls and look for a small pathway leading off to your right. This will take you on a short circular route around a very quiet group of 10 or so ruined brick stupas clumped densely together. These house particularly good stucco work and carvings overlooked by most visitors. It can get impassable due to vegetation during rainy