An eggsome threesome in Saigon, grilled and fried in porcelain

A grilled and fried preparation of quail eggs in porcelain plates has become a hugely popular dish in HCMC. Foodies can try three places that offer it in different variations.
The dish, chen trung nuong, which originated in central Vietnam, can be had for as little as $0.31 a serving in the city, with the cost rising depending on toppings and on the establishment that chooses to cash in on its popularity.
To make this dish, quail eggs are broken and placed in a porcelain plate coated with butter and then, grilled and fried on a hot coal stove. A range of toppings are added, including sliced green onions, pork floss and sausages.
Of late, more toppings have sprung up, including seafood and cheese.
The first of the three suggested places to try this dish is the food court inside Ho Thi Ky Flower Market in District 10.
A portion of the fried and grilled quail eggs at this place starts at VND12,000 ($0.53).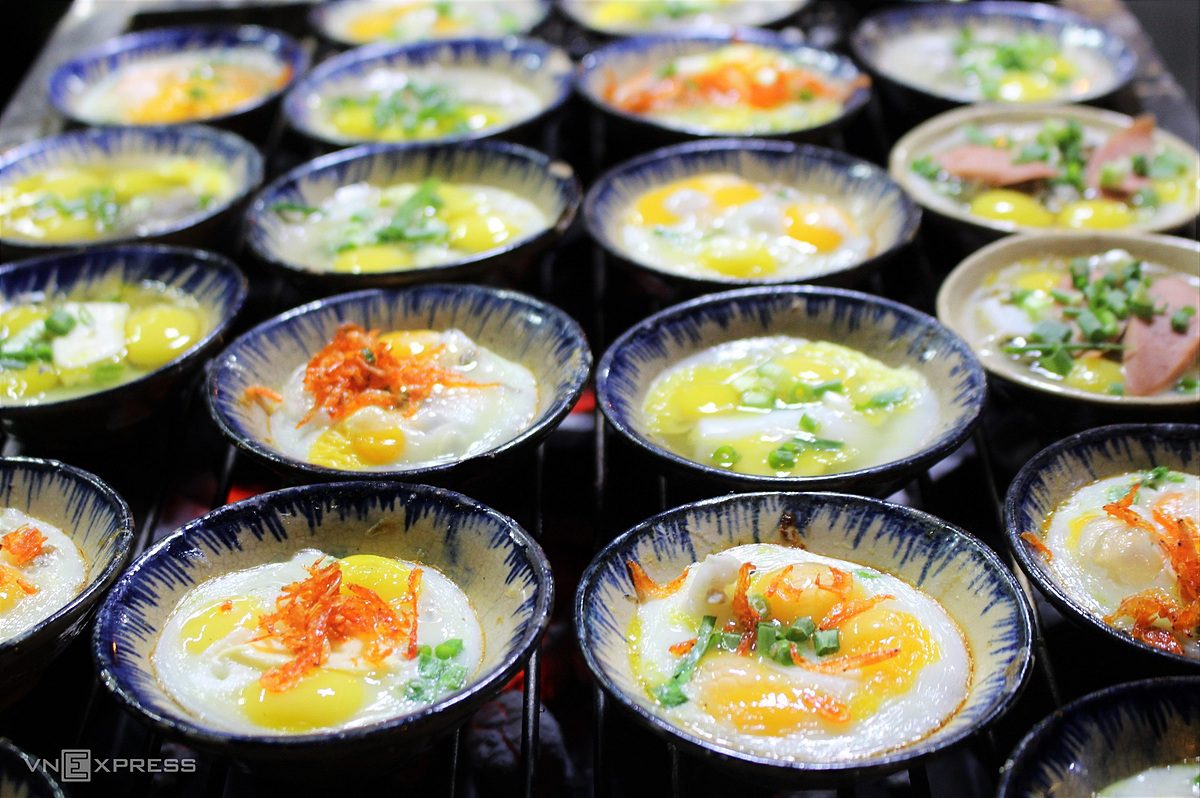 Bowls of quail eggs added with toppings are grilled on a burning charcoal stove at a stall inside Ho Thi Ky food court in HCMC's District 10. Photo by VnExpress/Huynh Nhi
When a customer places an order, the seller will put some butter in the bowl and place it on the glowing coals. Then three to four quail eggs are broken into each bowl. As the eggs cook, sliced spring onion, fried shallots, pork floss, sausage, mayonnaise and mildly spicy chili sauce are added.
Customers have the choice between fully or half cooked eggs.
If customers want to additional toppings like oysters, shrimp, squid, cheese, mussels or minced meat, they would pay extra. A bowl with full toppings costs VND25,000.
The dish is served with cilantro and tamarind sauce.
The food court is open from 3 p.m. to 9 p.m. Given the narrow space, customers should find a parking lot at the top of the street and walk to the stalls.
At the Pong Restaurant in districts Binh Thanh and 3, the signature dish – fried and grilled quail eggs – is sold for VND7,000-13,000 ($0.31-0.57) a bowl, with 13 different toppings including shrimp, oyster, and sentinel-crab.
In addition to the grilled quail eggs, diners can order other snacks like grilled fermented pork roll, grilled rice paper, fried corn and grilled skewers.
The restaurant has two branches at 168/73 Nguyen Gia Tri, Ward 25, Binh Thanh; and 590/11A Cach Mang Thang 8 Street, Ward 11, District 3. They are open from 9 a.m. to 9 p.m. daily.
At the Nhi Nhi Restaurant in Go Vap District, this special dish is priced from VND7,000-15,000 a serving, with toppings including minced meat, cheese, scallions and fried onions. This eatery serves it with a sweet and sour fish sauce.
The restaurant is at 164 Street No.20, Ward 5, Go Vap.
Source: E.vnexpress.net