THINGS TO DO IN MINGUN
When visiting Mandalay, a trip to the nearby Mingun is a must. Mostly known for the Mingun Pahtodawgyi, a gigantic unfinished pagoda, Mingun is also worth visiting for the Hsinbyume Pagoda (the famous round shaped, white pagoda). One thing that you should keep in mind before visiting Mingun is that here you will visit many temples and important Buddhist structures. Therefore, you should dress accordingly in order to show respect to the local culture.
1. Hsinbyume Pagoda
After arriving in the Mingun port, head to the Hsinbyume Pagoda first before all the tourists get there (you can check out my full guide about this pagoda here).
This must see Mingun attraction is gaining popularity due to Instagram. One of the most beautiful temples Myanmar, the Hsinbyume Pagoda was built by the Bagydaw prince as a way to show his love for his first wife, Queen Hsinbyume, who unfortunately lost her life during childbirth.
This temple is also called Myatheindan Pagoda. It impresses through its beautiful architecture and white terraces which look like waves. Feel free to explore the terraces and climb on top of the pagoda. The view from above is amazing and you can even see the Mingun Paya from there.
2. Mingun Bell
The Mingun Bell was cast in 1808 in order to be used in the Mingun Paya. The bell weights 90 tons and is the second largest bell in the world. You can find the bell on your way from Hsinbyume Pagoda to Mingun Paya, under a wooden roof. Feel free to get close to it and take some photos.
3. Mingun Paya or Pahtodawgyi
This incomplete stupa in Mingun was built by King Bodawpaya in 1790 and it was intentionally left unfinished. The construction was stopped when a prophecy was revealed: as soon as this pagoda was going to be finished, the country would also be gone. Therefore, the pagoda only reached one third (50m) of the planned height.
If finished, the Mingun Paya would have measured 150 meters and its height would have made it the biggest pagoda in the world. Now, the pagoda only holds the record for the biggest pile of bricks.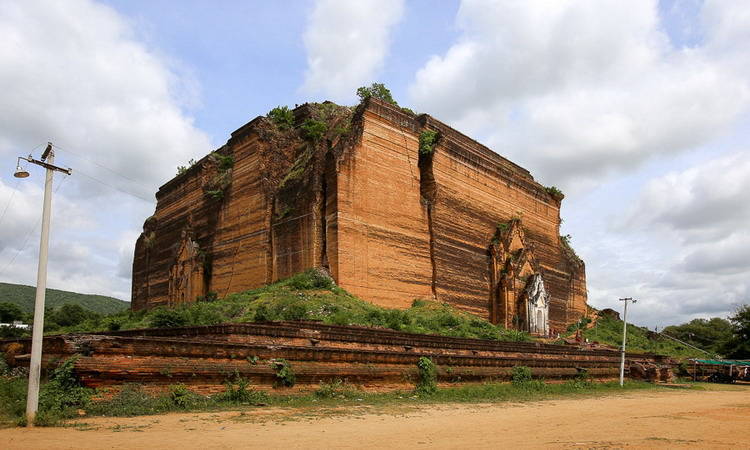 4. Sat Taw Yar Pagoda
One of the top things to see in Mingun is the Sat Taw Yar Pagoda. Although it's not as impressive as the Hsinbyume Pagoda, Sat Taw Yar Pagoda's architecture is beautiful. I personally loved its intricate details and white facades. With beautiful views over the Irrawaddy River, this pagoda is worth visiting when in Mingun.
5. Lions of stone
You've probably already seen the two big lions of stone when arriving in the Mingun port but if you haven't, take a few minutes to admire them. These 29 meters high lions are meant to guard the Mingun Pagoda.
Even though they are severely damaged after the earthquake, some of the original details can still be seen.