Top 5 Places in Vietnam for a honeymoon
Nowadays, many parents-to-be are likely to spending their time at a romantic, fresh and enjoyable trip before giving a birth. Vietnam is known as one of the best places for couples who are not just normally want to travel but also for those who are pregnant and want a relaxed trip before your little baby was born.
Source: Internet
Knowing well Vietnam with our professional and various experiences working in tourism for many years, we would like to recommend you the 5 most highlighted places to satisfy you as below:
1/ Ha Long Bay – UNESCO World Heritage Site
Travelling to Vietnam, tourists will never skip Ha Long Bay since this is one of the most highlighted beautiful places in Vietnam which is spread out among tourists. You will be amazed by thousands of limestone islands and islets, beautiful sandy beaches and magnificent caves while cruising along the Bay. Most of them are purely nature and unaffected by humans so tourists will have a great view and unforgettable experiences by taking part in activities created to fit with the Bay.
Source: Internet
Doing Ha Long Bay, you can choose 2 days 1 night or 3 days 2 nights staying on cruise in the middle of the Bay or even staying on Cat Ba Island. Travelers do not really need to join all activities like the others, just do free and easy things to fits with you such as simply shining under the sunshine above the sundeck, dipping you under the green water, lying on the sandy beaches to enjoy your moments. Treating yourself with such a fresh environment and spectacular seascape of limestone pillars is an ideal trend for those who are parent- to- be which is not only good for a honeymoon but for creating a romantic trip for parents as well.
2/ Ninh Binh – Halong Bay in land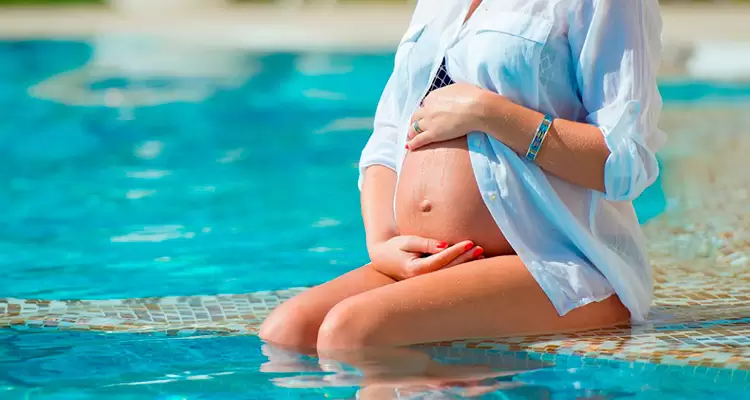 Source: Internet
Hoa Lu Tam Coc is located in Ninh Binh Province which is only 2.5 hours driving from Hanoi down to the South by coach or car.  This famous area is a well combination of cultural and historical sites and natural beauty landscape. The best option for honeymoon is staying 2 days 1 night in Ninh Binh in which you can relax at a bungalow or a resort to enjoy the beauty of nature and fresh air from a further area away from bustling Hanoi. Wake up early in the morning to enjoy the fresh mood will bring your baby a strong.
3/ Hoi An – Town of lanterns
Source: Internet
Hoi An is perfectly combined to fit with those who are going to give a birth thanks to its balmy weather, environment.  This is one of most beautiful places that are highly recommended for all international and local travelers who want to not only discover Hoi An with historic, cultural sites but for the other values such as beautiful beaches, delicious foods, romantic space and fresh air as well. Hoi An is a small town which is well located next to Thu Bon River, close to An Bang and Cua Dai beach that can create an ideal space for travelers to stay here. Travelling to Hoi An where there is no train station, no airport but you can easily reach Hoi An via Da Nang then take car or taxi to Hoi An with only 45 minutes driving. You will need at least 3 days in Hoi An to enjoy entirely this beautiful town. After doing the research and concluding the valuable feedbacks from our customers, tourists should try the below things: Having a romantic night with your beloved sailing along river and having dinner on cruise, or delighting yourself at a sunny day lying along the beautiful sandy beaches then enjoy fresh seafood, or even just staying at a resort next to the beach. All will bring you such a relaxed mood before giving a birth.
4/ Da Lat – The city of spring for goods
Source: Internet
Da Lat is a small town away from Ho Chi Minh City 290km in which travelers can reach to Da Lat by plane or bus. Recently, Da Lat is known as one of the most popular places that attract tourists. Spending about 3 days 2 nights in Da Lat will be enough to discover this little town if you do not have plenty of time. Known as an eternal spring city, Da Lat attracts tourist by its heaven weather in which you will never be too cold or too hot, just enough to make you feel cool and comfortable. Besides, you will be amazed by so many blooming colorful flowers and fresh organic vegetable farming at any time during the year. Visiting Da Lat, you can easily find a gorgeous farm planting different kinds of flower to serve tourists. One of the highlight in Da Lat is the spectacular scenery in which Da Lat is covered by plenty of stunning waterfalls, connecting pine forest. A visit for a honeymoon should list Da Lat to complete your journey!
5/ Phu Quoc Island – Paradise for beaches lovers
Source: Internet
This place will be the last recommendation for a honeymoon in Vietnam. Not like Bali or Thai Lan, Phu Quoc is an isolated tropical island located down South of Vietnam with 150km of coast in which you can reach there by plane at Phu Quoc International Airport.  Phu Quoc is well known with many white sandy beaches and a perfect combination from mountain to forest and sea. With such a balmy weather, Phu Quoc is a good choice for all travelers who love nature and seek for a place to balance sightseeing and beaches. Before your little baby comes, check out Phu Quoc Island with your lovers will be a great idea. You can spend your time at your luxury resort or walk along the sandy beach to enjoy the fresh air or dipping yourself under the fresh green water of the sea. At the end of the day, Phu Quoc will end up with the colorful sky to complete your day with such a customized romantic dinner next to the beach. Travelling to Phu Quoc will bring you, especially who are pregnant are grown gorgeously and relaxed.
If you are going to travel to Vietnam for not only a really normal occasion but for a honeymoon, we will design your trip based on your request and with our long history working in the tourism industry. Just feel free to contact us to get the best deal for your upcoming trip.