Ngapali Beach Myanmar (Burman)
Ngapali Beach
Ngapali Beach is one of the great attractions in Myanmar and the most beautiful beach in Myanmar. Located about 7 km from Thandwe, in Rakhine State, Ngapali beach is beautiful stretches of sand on the Gulf of Bengal. Being isolated for a long time along with well preserved by the local people, nowadays, Ngapali is one of the most enchanting beaches in Asia, well-known as the gem of Myanmar, it's blue water, the km-long white sand beach has made the beach one of the precious gifts from Mother Nature.
Best Things to Do & See in Ngapali Beach
Immerse into the Blue Water
Ngapali beach is clean and quiet. Its seawater is blue platinum, clean and without any dangerous marine animals. No doubt, swimming is the best thing to do at Ngapali beach.
Ngapali Beach is one of the loveliest places in Myanmar, it is also one of the most pristine beaches in the world, with miles of pure white sand and clear blue water of the Indian Ocean. In addition to the usual beach activities and excursions such as visiting the small fishing village and local markets, explore the countryside by bike and boat trip to the beautiful island in a Myanmar beach holiday is also wonderful to experience a unique Ngapali in Myanmar.
Cycling Through the White Sand Beach
Ngapali Beach is famous for its natural beauty and pristine. Beach stretches about 3 km with soft white sand under the coconut trees. It has beautiful natural scenery of immense sea, white sand, and smooth sun. Together with amazing activities in the water, there is no better way to explore Ngapali beach than getting on a bike and explore the stunning villages.
Cycling is one of the best things to do in ngapali beach
Enjoy Ngapali Scrumptious Fresh Seafoods
Ngapali beach is rich in abundance with marine resources including prawns, lobsters, corals, marine mammals, shellfish, red snapper, grouper, seabass, horse mackerel, Spanish mackerel and many other kinds of fish. Once traveling to Ngapali, getting a super fresh fish meal is one of the best experiences to try.
Enjoy fresh seafood is an awesome thing to do in ngapali beach
Visit the Idyllic Villages & Meet Friendly People
Ngapali Beach is the best place in Myanmar is not only for recreation and tourism, but also study the life and local culture. There are no industries and pollution, rubbish along the beautiful beach. You can take a boat trip or ride a bike to visit the tranquil village and meet with the friendly locals who always have a smile for you.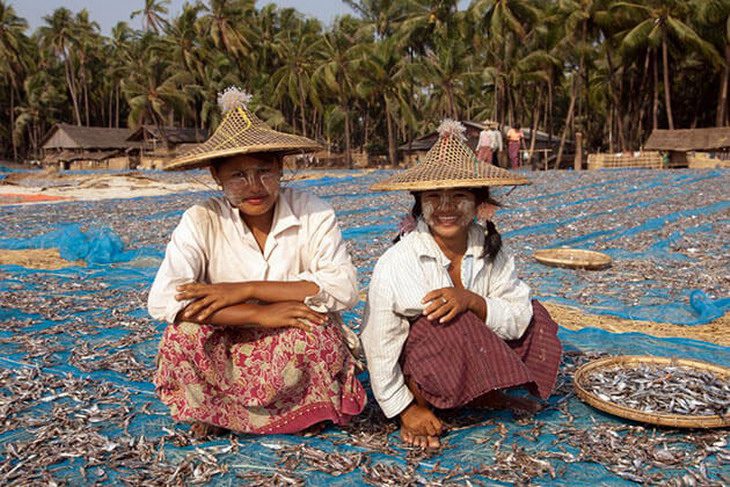 Visit the fishing village in ngapali beach
Play Golf in Ngapali Golf Course
Ngapali Golf Course has 18 holes to play Golf and it just takes 15 minutes driving from the hotels to perform the taste of golfers in one of the best beaches in Myanmar. The best time to visit Ngapali Beach in Myanmar is during the period from October to May. Ngapali can be reached by plane. It takes about 45 minutes from Yangon and about 14 hours by car along the Rakhine Yoma Mountain Range.
Ngapali Beach Travel Guide
How to Get to Ngapali Beach
Located about 400 km from Yangon, there are two ways to get to Ngapali beach, one by flight and one by car. Traveling to Ngapali by airplane is the fastest way as it takes only one to two hours from domestic airports in Yangon, Bagan, Mandalay or Inle Lake.
If you want to travel by bus, daily buses are available in Yangon. It takes about 9 hours to drive from Yangon to Ngapali. The ticket can be bought at Yangon's Aung Mingalar Bus Station. If you want to buy online, please contact us and we will arrange the ticket for you.
The best time to visit Ngapali Beach
Visit Ngapali Beach between October and May, if possible. The sky is blue and the temperatures are warm during these months. The majority of the hotels close their doors and there are hardly any flights to the area from June to September, making travel virtually impossible.